King Rubby in The Garden Of Eden
San Francisco, 2000
The idea behind this recording session was to emulate the great King Tubby, whose style it was to let musicians run wild in the studio then engineer the mix in post-production. The musicians never knew what the final outcome would sound like. However, to take this a step further, King Rubby took the live, effected mixes and ran them back into the musicians' headphones so that they could not only play off each other, but also the King Rubby effected mix.
Jay Caddle – Keyboards, Wayne Fidler – Guitar, Chris Davis-Slade – Bass (and album artwork), King Rubby – Mix, and Myself – Drums…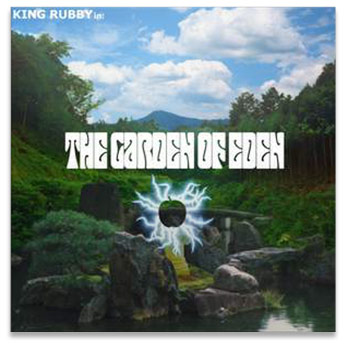 Genesis
Genesis
_(08:13)
Adam
Adam
_(09:33)
Rib
Rib
_(10:21)
Clay
Clay
_(01:52)
Eve
Eve
_(06:24)
The Serpent
The Serpent
_(07:23)
Temptation
Temptation
_(02:47)
Apple
Apple
_(01:27)
Realization
Realization
_(02:42)
Nakedness (01:12)
Nakedness
_(01:12)
Judgement (04:48)
Judgement
_(04:48)
Exile (00:45)
Exile
_(00:45)
The Flaming Sword (04:07)
The Flaming Sword
_(04:07)
Peace (06:34)
Peace
_(06:34)
Download King Rubby in The Garden Of Eden
_
The set of recordings below were from the same session and done in the same vein  but never made it to the final mix for one reason or another.
In The Beginning
_(08:19)
Pornocopia
_(08:08)
Sabbatical
_(09:33)
Funky See, Funky Doo
_(07:54)
Perception
_(09:21)
Chaos
_(03:12)