Karma Canon – Nightcap Selection Collection Volume 1 (2002-3)
Like fine wine aging in barrels hidden away in underground caves out in Napa Valley, California, the archived recordings of Karma Canon exist online, on hard drives and some even on tape. Thus far, eight years of improvisational sessions beginning in 2002 have been documented by Jay Caddle among many of his projects. This collection assembled in 2010 represents some personal favorites from the early days. The original unveiling of these sessions can be seen on freakoftheweek.com.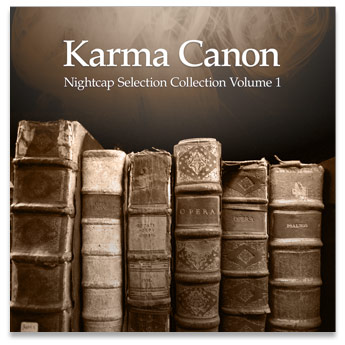 This Karma Canon Collection is my personal selection with 11 of my favorite, stand-out tracks from sessions taking place in 2002 and 2003 when Jay's studio was located in the Astracade, Philadelphia on Ridge Avenue. More tracks from these sessions can be found at karmacanon.com or freakoftheweek.com. Excellent background music for plugging in, zoning out and/or working away. Jay Caddle (bass, keys), Adrian Rosario (guitar), Michael Miller (guitar), Peter Schroeck (guitar) and Myself (drums).
_
Tracklist:
A Song (03:53) from Karma Canon 1
Beginning of Q2 (20:04) from April Fools' Gold
Lamb (19:53) from Karma Canon 3:15
Janitors' Night Out (04:20) from Karma Canon 10:29
So Happy Without You (17:54) from Karma Canon 1
Checkout Girl (03:38) from Karma Canon 1
Sneaky Smokey (12:41)
It Seemed Like A Fine Idea At The Time (22:25) from Karma Canon 3:18
It Seemed Like A Fine Idea At The Time

Slay The Demon (13:58) from Karma Canon 11:19
Death and Taxes (26:46)
Drowning in a Car on Fire (28:49)